Virtual Network Function Orchestration Market Overview: VMs vs Containers by Insight Research is featured on IEEE ComSoc Technology Blog
Published on January 11, 2023
We're thrilled to announce that Insight Research's comprehensive analysis of the Virtual Network Function Orchestration (VNFO) market has made its mark on the esteemed IEEE ComSoc Technology Blog.
In the dynamic realm of telecommunications, where Cloud-native network functions (CNF) are reshaping the landscape, Insight Research stands at the forefront, offering invaluable insights into the evolving CNF landscape. The onset of 5G technology has propelled this transformation into high gear, and we're proud to be featured on IEEE ComSoc Technology Blog, a renowned platform for technology enthusiasts and professionals.
The latest article, published on January 11, 2023, authored by Alan Weissberger and Kaustubha Parkhi- Principal Analyst at Insight Research, and edited by Alan J Weissberger, delves into the VMs vs Containers debate, shedding light on the major methodologies in Virtual Network Function Orchestration (VNFO). Learn how network functions are categorized as Virtual Network Functions (VNFs) when orchestrated using VMs and Containers. Discover the evolution of these terms since their introduction in the context of Network Function Virtualization (NFV) at the OpenFlow World Congress in 2012.
Containers are gaining ground rapidly, outpacing VMs in the VNFO market. Explore the advantages of Containers over VMs, their impact on performance, and the potential they hold for various end-applications.
The VNFO landscape is undergoing a significant transformation, and with this feature on IEEE ComSoc Technology Blog, we invite you to delve deeper into the complete article for a comprehensive understanding of the subject.
Read the full article on IEEE ComSoc Technology Blog.
To access 'The VNFO – Ripe for Change' full report or download an executive summary, click here.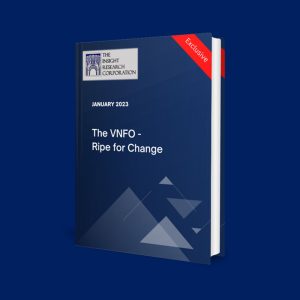 For media inquiries or further information, please contact:
Manash Gogoi
Analyst
mgogoi@insight-corp.com
Insight Research Corporation
Bengaluru, India